Billet Lowers
Second Amendment Armory offers AR15 and AR10 Billet Lower Receivers. Each Lower starts out as a solid block of aerospace grade 6061 aluminum alloy. They are precision machined on a 4 axis CNC machine, hand finished, and anodized with type III hard anodize per the military specifications. Each lower is engraved with the Second Amendment Armory logo and a special serial number on one side and the 2nd Amendment on the other side. Fire and Safe pictograms can be color filled.

Complete Rifles
Not comfortable building your own AR or just don't have the time? Let Second Amendment Armory build one for you. We have a wide variety of components available for your build. Custom features include:
Barrels
Stocks and handguards
Sights and optics
Muzzle devices
Triggers
and much, much more...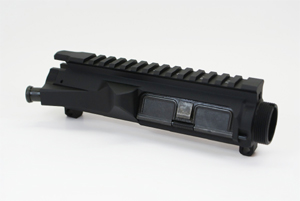 Billet Uppers
To match up with our Billet Lowers, Second Amendment Armory offers Billet Upper Receivers. Our AR15, model SAA-15, uppers come standard with the forward assist and port door installed. In addition, the T-Marks are laser engraved on the rail. Our AR10 Uppers (DPMS Style) are slick side uppers with no laser engraving.